"I Feel His Love in This Room" – Céline Dion
Céline Dion gathered the strength to speak at her late husband René Angélil's celebration of life ceremony Wednesday at The Colosseum at Caesars Palace in Las Vegas.
Although the "Power of Love" songstress originally had no plans to talk or perform during the event, Dion changed her mind at the last minute.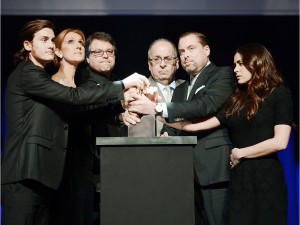 "This is my home away from home," a tearful Dion said. "At the same time I'm supposed to feel extremely comfortable being home and right now I'm not sure how comfortable I feel." She also made a point to thank those who had paid tribute to Angélil, saying, "I feel his love in this room. I feel his strength and his warmth being reflected in all of you. René always surrounded me with the best people who believed in us and always worked so hard on our behalf."
Before leaving the stage, the "Power of Love" singer said, "On behalf of my family, thank you again for being here with us this evening for this beautiful tribute to mon amour. René I love you, so much. Merci. Good night."
Gary Selesner, the President of Caesars Palace, began the night by opening up about the singer's late husband.
"I'd like to extend my heartfelt appreciate to Céline and her family to allow us to have this time together to honor and remember René," he told the crowd.
"René inspired, nourished, inspired and loved this very special corner for Caesar's Palace."
Dion's husband passed away Jan. 14, 2016, after a long battle with throat cancer. The "My Heart Will Go On" singer honored her late husband with a funeral where her son, René-Charles, delivered a heartfelt speech to attendees.
"Fifteen years is not a long time for a son to get to know his father," he told the crowd. "You left me now with enough good memories of you to share with my younger brothers. As they grow older without you being around, I'll make sure to pass on what I've learned from you."
Source: E! Online