The King's Assembly Celebrates 12th Year Anniversary
Port Harcourt
The Senior Pastor of The King's Assembly announces plans and schedules for the church's 12th anniversary celebration. In a statement released today, the church revealed that the theme of this celebration is 'Imagine More'. Activities marking the 12th Anniversary celebration hold from the 9th to the 13th of November, 2016.
The celebration, which will be hosted by Pastor Chris and Yemisi Ugoh, will feature renowned speakers including Poju Oyemade of Covenant Christian Centre, Yemi Davids of Global Impact Chruch and Godman Akinlabi of Elevation Church. It will also feature music by Nathaniel Bassey, Pita and NewSong.
Imagine More offers 4 days filled with diverse faith strengthening activities. There will be special sessions for Pastors, Leaders and Church Planters.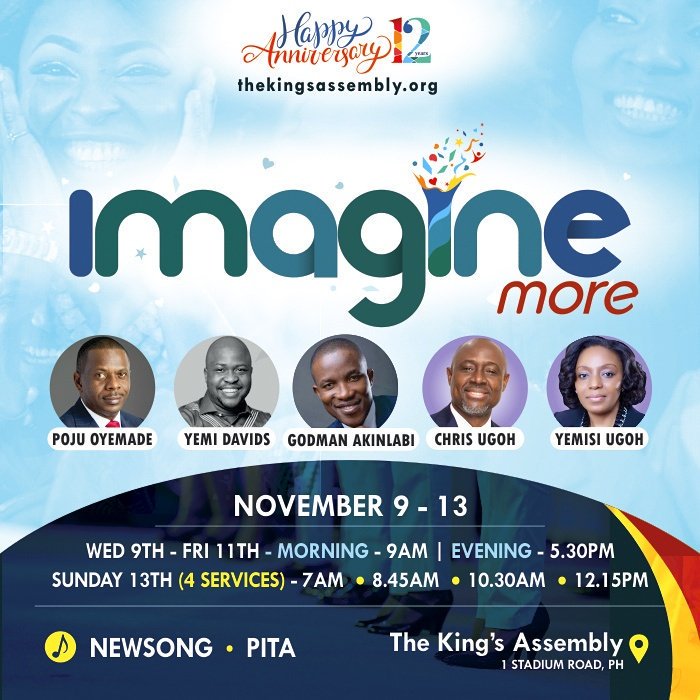 Date: Wednesday November 9th to Friday, November 11th – 9.00am and 5:30pm each day.
There will be 4 Services on Sunday, November 13th at 7.00am, 8:45am 10:30am and 12:15pm.
The venue is The King's Assembly, 1, Stadium Road, by Airforce Junction, Aba Road, Port Harcourt.
The King's Assembly is a City Transforming Church with a vision to raise Christ followers, train them as Leaders to raise others for Christ. Speaking about the event, the Senior Pastor, Chris Ugoh said 'Imagine More' is a call to deepen our faith in God, expand our grasp of the infinite capabilities and possibilities of God and remain focused on the call upon the lives of Christians to be the light of the earth, at all times.
By Admin