Anthony Ekwensi Wins Chinese Language Contest.
Nigerian student, Anthony Ekwensi, has been crowned the African champion at the 17th Chinese Bridge Chinese Language Proficiency Competition for Foreign College Students.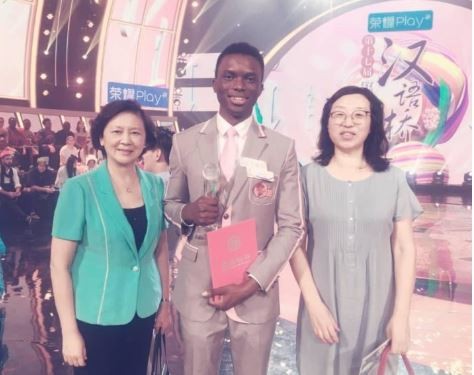 The grand finale of the competition took place on August 4 in Changsha, Hunan Province where Russian student Ruslan was the overall winner at the event which paraded 152 students from 118 countries.
The 21-year old Anambra-born Nigerian, who came fourth in the final competition, made it to the last round of the championship with four other contestants who were also crowned champion of their respective continents.
The other winners were Theodore Joseph from Australia who came second, Guan Huimin from Indonesia, who took the third position and John Gardner from the United States, who placed fifth. According to the organisers, the final competition consisted of three parts and tested the finalists' language skills and all-around abilities, including their knowledge of Chinese culture, history, traditions and communication, as well as their singing and acting skills.
All five winners have been offered full scholarships by the Confucius Institute. In a telephone interview with NAN from China, Ekwensi, a final year student of Nnamdi Azikiwe University (UNIZIK), Awka, Anambra State, said he looked forward to returning to China to pursue a post-graduate programme.
''I went into the competition because I knew there was an opportunity to do something great, and also I wanted an opportunity to visit the country I've always dreamed of going. My next plan now is to graduate successfully from UNIZIK and then come back to China for masters. I dedicate my award to God,'' the final year student of Education Management and Policy said.
Ekwensi learnt the Chinese language in Nigeria for two years at the Confucius Institute, UNIZIK, Awka.
Source : LIB