Current State Of The Military Take Over In Zimbabwe
Zimbabwe Military Siege Briefs as it stands as of Now:
ZBC is now under military control. It was successfully captured around 12:09 am today.
Army Deputy Commander Simon P Moyo has briefed the nation on what's going on: They are "clearing corrupt looters and thieves around Mugabe" he claimed.We are to wait and see
Finance Minister Ignatious Chombo was arrested at 2:25am following a gun fire exchange at his home. One security guard at Chombo residence killed
Upon arrival at Saviour Kasukuwere's residence at 1:30 am they found he had already fled
Walter Muzembi, Foreign. Affairs Minister has fled to South Africa
Jonathan Moyo whereabouts are unknown as we speak
S.K Moyo is refusing to speak to the Media
Roads to Parliament are closed. Nelson Mandela road and fourth closed. Second street and Samora closed. N Mandela and second street closed. People going into town are advised to avoid these roads with heavy armed soldiers are monitoring the whole area and they are not allowing anyone to pass through these areas. Apparently tanks blocking access to Parliament. There is calm in the suburbs and it's purely business as usual.

Some people are attributing this as a fight back from the fired Vice President Emmerson Mnangagwa which originated from an incident that occurred in a meeting where the VP and his wife were refused "ice cream".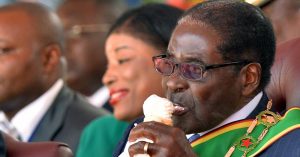 Vice President Emmerson Mnangagwa and his wife, Auxilia, were denied ice-cream snacks sourced from President Robert Mugabe's Gushungo Dairy during a youth interface rally at White City Stadium in Bulawayo.
NewsDay journalists observed that waiters serving ice cream in the VVIP tent skipped Mnangagwa and his wife after all other top government and Zanu PF officials, among them Mugabe and First Lady Grace, got their share of the ice-cream. This comes after Mnangagwa fell sick during a Gwanda interface rally in August, and was airlifted to South Africa for treatment with his allies claiming he had eaten poisoned ice-cream from Gushungo Dairy.
On his return from South Africa, Mnangagwa denied eating poisoned ice cream from Gushungo Dairy. He later told Zanu-PF supporters during the late Masvingo Provincial minister Shuvai Mahofa's memorial that he had indeed been poisoned, although he did not directly implicate the First Family for the alleged assassination attempt.
Subscribe for more news