Doris Francis Drops New Music: None Like You
Gospel singer Doris Francis started her musical career early. Her inspiration is her mother who would always sing to her hearing and this got her inclined to music even at the age of five.
Soon she started singing in churches, choirs and local church competitions, blessing the hearts of many. She is a worshiper.
The power in her voice and the dexterity with which she holds her own as testified by fans and friends have distinguished her. For these same reasons she has worked with renowned gospel ministers in the city of Port Harcourt and beyond.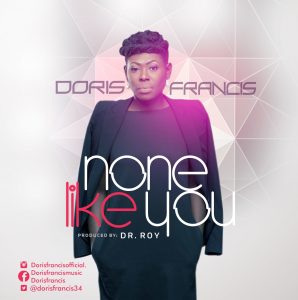 With one album in the bag and another to come soonest, this song is a piece to remind everyone that there is none like our God.
Connect With Doris:
Twitter: @dorisfrancis34
Instagram: @dorisfrancisofficial
Facebook: Doris Francis
Facebook Fanpage: Doris Francis Music.
Song Title:None like you.
Written and arrange by Doris Francis.
Song lyrics:
Your are the reason why live
Your are the reason why I breath
Most high
There's none like you...
You are my portion and my hope
You are my God and my King
Most high
There's none like you.
There is none like
None like you,most high
There's none like you (2x)
There's none like you
Uh uh uh uh
There's none like you (4x)