DSS Arrests Boko Haram Top Commander and Others in Kano
KANO – A sting operation by DSS in Kano Sunday led to the arrest of top Boko Haram commander, and 20 others suspects.
The Director, Kano local office of DSS, Alhassan Muhammad told reporters in Kano that the 48 hours operation neutralized what would have been a bloody Eid Fitr in Kano recent history.
Alhassan Muhammad disclosed that the combat operations was jointly carried out by the police, and his men led to the arrest of the unit commander of Boko Haram who was also in charge of Kano, Kaduna and Sokoto.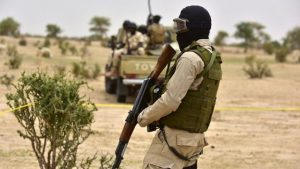 He explained that the commander also arrested alongside 30 other suspects while planning coordinated attacks during Sallah festivity in Kano and other major Northern cities.
Alhassan said " we have in our Custody about 30 suspected Boko Haram terrorists including a sector Commandant whom we arrested at Rijiyar Zaki and Dorayi areas of Kano in just two days".
The Director said the success story was the outcome of a painstaking effort buoyed by intelligence gathering and sharing by the police and DSS which helped put more spots areas at red alert.
He said "our joint intelligence gathering and the synergy that existed between all the security apparatus in Kano give a moral buster to our giant efforts in tracking every suspicious movements and make it highly difficult for the terrorists to make any impact".
Alhassan explained that the proactive move helped averted the dastardly planned to lay ambush on Kano and other cities in this period of Sallah Celebrations".
The Director revealed that "arms and ammunition, primed Improvised Explosive Devices, IEDs were recovered from the suspects' hideouts in the state."
Vanguard recalled that the State Security Service, SSS, on Friday, said it uncovered a plot by suspected terrorists to attack Kano, Kaduna, Sokoto and Maiduguri during the Eid-el-Fitr celebration.
The secret service said two suspects — Yusuf Adamu and Abdulmuminu Haladu — were arrested in Sokoto in connection with the plot in the early hours of Friday.
Source: Vanguard News