Fire Outbreak at House On The Rock Abuja – Citadel Of Towers
There was a Fire outbreak on Sunday at the House on the Rock Church in Abuja. At the time of the incident the service was over and members were long gone to their respective homes.
Fire fighters came in later to help bring down the flames and save some part of the structure not yet destroyed by the fire.
The cause of the fire is still unknown.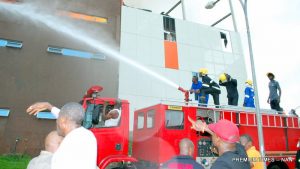 A member of the Church who spoke to news men said that the main building had not been in use for a while now as renovation work was going on. According to a twitter account owned by Abayomi Shogunle, there were 7 fire fighter trucks helping to put out the fire.
So far no casualties have been recorded, but a major part of the structure was destroyed by the fire. Although a structural strength test would most likely be conducted to ascertain if the whole building would be brought down or just a renovation would be made.
We pray for a recovery of that which is lost by the Church.
See Below Tweet
House on the Rock Church, Abuja on fire 🔥. 7 fire trucks 🚒 at the scene.
Caution needed if you are driving towards Airport, cause unknown. pic.twitter.com/zKIRikIOZN

— Abayomi Shogunle (@YomiShogunle) June 25, 2017