#TheChroniclesOfMrOlumati : When Destiny Smiles At You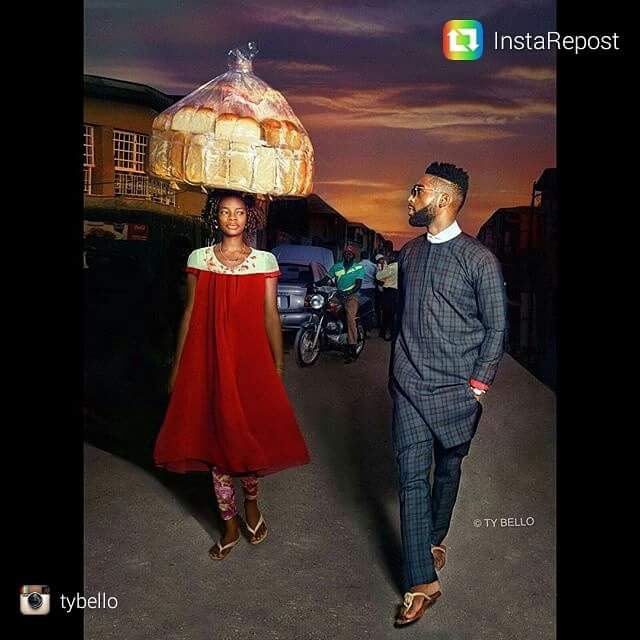 Yesterday I spent an awful amount of time on the internet pushing a new Brand for an emerging company (Mirus Empire) . While working I stumbled into a picture, a photo Of Tinie Temper looking at a Beautiful lady carrying some bread. I appreciated the picture as another piece of Art, Of Course it had to be Beautiful as TY Bello was behind the Camera and Super Star Tinie Tempah was in the picture. I moved on quickly to attend to my project.
(project #MirusAlpha)
This morning I came back online to study the Impact Of the project executed yesterday and then I stumbled on a post on Facebook by my friend and big brother Geoff Uzoma, it was a post about the girl in the picture i had seen the previous day. His revelation about the girl and her unplanned inclusion in the said photo has become instructive to me.
He wrote
"That girl right There, an Agege bread seller walked into Destiny while @tybello was on set shooting for Music Star Tinie Tempah. Now everyone is looking for her. #BornaModel #SheNoBuyAmForMarket #WhenDestinySmilesAtYou #HelpLocateAStar #MadeOfGrace "
Immediately I read this, these thought came alive in my spirit, " It matters who is behind the Camera, and in the picture With you", those people have the power to change your life without Saying anything.
I got thinking further, for being in a photo practically by coincidence she has become sort after? Is this not because the Character behind the Camera and in the picture have become Authorities in their fields? Wow!! it would have been different if the Host characters were different people. It Shows how much power their works and name can exude even without them Saying anything.
The lady will pass for a model Without all the rigors Of needing a recommendation, she has being recommended by the lenses Of TY Bello.
My closing thought to self becomes, when will I attain the height at which Peoples life can change completely when they meet or come close to meeting me?
It matters who is behind the Camera and in the picture With me. If I have God on both sides I sure Would become sort after.....