New Music: James Numbere "Bye Bye"
It's been a busy year for James Numbere. With the successful release of his debut single "I'll Be There" over the summer, which gained multiple radio plays on British National radio including a special interview on the Mark Forrest Show, performing at The BBC Gospel proms at the Royal Albert Hall with Michelle Williams of Destiny's Child and the London Community Gospel Choir, working with One Republic and All Saints for BBC's 500 words and a mini-tour in his hometown in Port- Harcourt, Nigeria; James finally gives us some new music and his follow up is a searing emotional ballad "Bye Bye".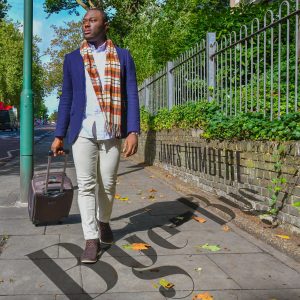 Not one to shy away from real issues, this soul singer-songwriter sings about Abuse & Addiction and all the toxicity that comes with it. On this single, you're drawn in on a cathartic journey through the pain and the shame of abuse, culminating in the firm realization that you can walk away from it all, and not look back.
In his own words;
"Bye-Bye is about empowerment; you need to realize your worth and cut off from people and things that hold you down".
Bye Bye is now available for purchase and streaming on Band camp, iTunes, google play, amazon, Soundcloud and Spotify.
jamesnumbere.bandcamp.com
iTunes : tinyurl.com/z48e267
Amazon : tinyurl.com/h7yv8p2
Soundcloud : tinyurl.com/h88ltbt
Spotify : tinyurl.com/hozb44d
Follow James on Soundcloud, Spotify & Facebook : James Numbere
Twitter: @JamesNumbere
Instagram: @jamesnumbere