NEW MUSIC: Slow Down by Martinx Dikyy
Martinx Dikyy hits back strongly with "Slow Down" produced by the brilliant BeckyJay.
The amazing talent left everyone in awe after the release of "Outta Prison" which erupted a high demand in his contents; the young philosopher after a while is now here with a heart warming sound.
Slow Down is a song that switches our mindset from the drive of attaining personal goals swiftly and all alone without the acknowledgement of a Superior Being.
Keep Calm and Listen to Music from the other side.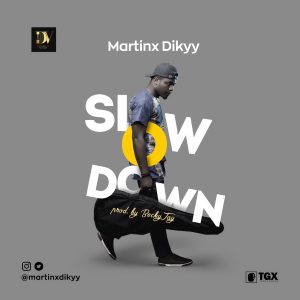 Twitter: @martinxdikyy @teamdexterville