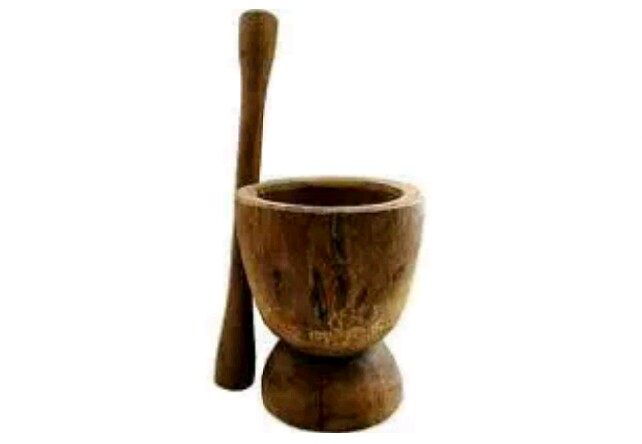 "Honey, could you come and check this out, please?" Amara's voice rang out from the kitchen interrupting the quality time Azuka was having with his friends.
Azuka excused himself and walked quickly towards the kitchen to find out what his wife wanted him to check out; his friends starring at him-then at each other.
Amara stood in front of the gas cooker,
stirring the Ogbono soup. Azuka walked up behind her and planted a long kiss just at the back of her neck as he
hugged her tightly.
"Leave me alone joor," Amara made a feeble attempt to wrestle herself free from his grip, "You left me alone here to go gist with your friends shey?
Azuka didn't let go. He kept on blowing
gentle breeze around the tiny hairs on her neck. "Stop seducing me" she said as she eventually got herself free from his grip. "Is someone getting aroused in the kitchen?" Azuka taunted with a smile. Amara picked up the long spoon with a bit of Ogbono and raised it to his mouth to taste. "Hhmmm, tastes nice" he said as he then kissed her on her lips. "You taste better" He turned almost immediately and headed for the door before she could stop him again.
He joined his friends Francis and Obi
laughing in the sitting room and asked to
know the reason for the amusement.
Francis starred at Obi. "No way" Said Obi "he will not hear it from me"
"Hear what?"
His friends burst out in laughter again.
"What?"
Francis looked at him.
"You have been married now for like how many years now? Two or three years now?"
Azuka frowned.
"Three." He corrected. "What has that got to do with anything?"
His friends laughed again.
Azuka was becoming impatient.
"Azuka, you are becoming a softie now. Since when did you start running like a chicken whenever your wife calls you?"
Azuka was confused.
"I don't get. How do you mean?"
"Azuka, what were you doing in the kitchen?" said Francis. "That place is not for you." Obi kept on laughing. Francis continued.
"You are a man. The kitchen is not the place for a man. You can't always be at her beck and call. Before you got married, you used to be the man in control. Now, you leave your friends just to go wash dishes?"
"No, I wasn't"
Obi continued laughing, this time almost
choked on his drink.
Francis paused for a moment.
"Your wife is taking you for granted. Where is the respect as the head of this home? What else does she ask you to do in your own house?"
That hit a nerve.
Azuka wasn't finding it funny. Obi's laughter was beginning to get to him. He opened his mouth in defence and almost immediately, Amara's voice rang out from the kitchen again.
"Honey, food is ready!" she said, "could you please set the table for dinner?"
Francis gave him the "I told you so" look.
Obi just kept on laughing.
###
Later that night…
It was time for bed. Amara starred at Azuka as he walked out of the shower, cleaned up and got into his boxers.
She sat up on the bed as her husband took his place beside her. The light from the bedside lamp by his side of the bed fell on his face. "He looks so handsome tonight," she said to herself. She couldn't help but notice his unusual silence. Having gone out with his friends after lunch, he had returned quite late in the evening.
He hadn't kissed her when she welcomed him home like he always did.
He didn't even make any small talk. The only words he had said to her were "is my dinner ready?"
"Is he moody?" she thought. She knew there was a problem. Azuka turned away from her with his back facing her and closed his eyes.
Something was definitely wrong. Amara tried moving closer to him hugging him from the back; a gesture Azuka shrugged off with a wave of his arm. "Not tonight" he said, "I am tired" He wasn't really tired. He just couldn't get Francis' word out of his head.
"Your wife is taking you for granted…"
Amara drew back in shock. He had never refused her before.
"Could you please turn off your bedside
lamp?"
That was it.
"Could you just stop!" thundered Azuka "turn it off yourself and stop disturbing me." She turned on her side of the bed with her back towards him. She was hurt
###
A week later…
Azuka pulled up in front of Francis's two
bedroom flat apartment; right behind his
highlander hybrid. That meant that Francis was home. Good.
Going home to a nagging wife was the last thing on his mind right now. Things really haven't been fine at home for
sometime now. Since he stopped helping around the home.
He walked up to the door and rang the bell. He was going to spend quite some time with his friend so Amara had better not expect him home early.
Azuka's thoughts were interrupted by the sound of a mortar and pestle from inside the apartment.
"Francis's wife was pounding?"
He waited for someone to open the door. Since Francis introduced Sophia to his friends, he had never recollected seeing her pound anything.
The door opened and Azuka retreated for a second to see Sophia right at the door. He could still hear the sound of pounding coming from inside.
"Hi Azuka "
"Hello Sophia. Please is Francis at home?"
"Sure he is. "Replied Sophia with a charming smile, "Do come in"
She allowed him in.
The pounding was louder now that he was in the sitting room.
"Where is he?"
"He's in the kitchen pounding yam"
"He is what?" Azuka backed up for a moment.
Sophia turned and headed towards the fridge to get him a chilled drink.
"He got back from work and said he felt like eating pounded yam and egusi soup. I told him he would have to pound the yam himself because I was so not in the mood to do that."
Azuka couldn't believe his ears.
"So he is the one making all that sound now?"
Sophia nodded. "Shebi he is the one that
wants to eat pounded yam Na?"
A smile split across his face as he walked straight to the kitchen. Sophia followed.
So Francis will come back from the office and start pounding yam.
The noise continued even as he got to the door of the kitchen to see Francis still in his white T-M shirt and blue tie with his sleeves rolled-up, pounding away.
"Bros! I hail oooo" greeted Azuka
Francis looked up in shock to see Azuka
standing few feet away from him.
Azuka saw the look on his face. That look was…priceless.
Credit: Lawrenceosu blog