Autopsy Reports Prince Died of Drug Over Dose
Music megastar Prince died from an overdose of opioid painkillers, a law enforcement source tells the Associated Press.
Minnesota investigators have reportedly finished an autopsy and toxicology testing, but have not officially released the results.
Thursday's news follows weeks of speculation that the 57-year-old singer was addicted to pain medications when he was found dead last month at his Paisley Parkestate.
How Prince obtained the potent painkillerPercocet or any medications he may have been using to treat an addiction, remains under criminal investigation, authorities said.
Prince, 57, died April 21 at his Paisley Park estate in Chanhassen, Minn. (File photo)
Prince Rogers Nelson was pronounced dead at 10:07 a.m. April 21 — 19 minutes after emergency responders arrived and tried to resuscitate the iconic artist. Investigators said he was last seen alive at Paisley Park, a sprawling compound that doubled as the reclusive singer's recording
studio and home in Chanhassen, Minn., about 8 p.m. the night before.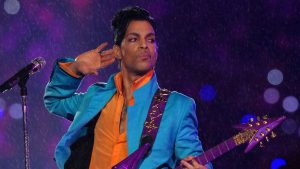 Andrew Kornfeld, the son of a well-known addiction and pain doctor, discovered Prince unconscious on an elevator floor andphoned 911.
An autopsy revealed no signs of trauma, and Carver County Sheriff Jim Olson has said previously that investigators don't believe Prince committed suicide.
Toxicology tests confirmed Percocet — the brand name of a narcotic pain reliever containing a combination of oxycodone and acetaminophen — was present in Prince's system, authorities said XXXXX. Abusing the drug causes a euphoric heroin-like high.
Though the artist's closest friends and family have not publicly addressed his alleged addiction, news reports have indicated Prince may have started abusing medications following hip surgery several years ago due to the pounding his body took from decades of lively stage performances.
A week before his unexpected death, a private jet carrying Prince home from a concert in Atlanta had to make an emergency landing in Illinois when the singer reportedly suffered an opioid overdose and lost consciousness. Paramedics who met the plane reportedly gave Prince a shot of the opioid antidote Narcan.
The sudden death of the entertainer has shed light on what the federal government recently called a national epidemic of opioid related overdose deaths.
New guidelines from the U.S. Centers for Disease Control and Prevention urges doctors to avoid prescribing addictive opioid painkillers such as Oxycontin, Percocet and Vicodin whenever possible for patients with most forms of chronic pain.
"More than 40 Americans die each and every day from prescription opioid overdoses," CDC director Dr. Tom Frieden said in March. "Increased prescribing of opioids — which has quadrupled since 1999 — is fueling an epidemic that is blurring the lines between prescription opioids and illicit opioids."
A Minneapolis criminal defense attorney has said Kornfeld was at the singer's home on a "lifesaving mission" to convince Prince to come to California to start addiction treatment. Neither Kornfeld nor his father, Howard Kornfeld, has been accused of wrongdoing.
William Mauzy, the Kornfeld's attorney, said Prince's staff called the elder Kornfeld on April 20 to seek help with the entertainer's addiction to painkillers. The doctor sent his son on a red-eye flight with a small amount of Suboxone, a drug containing used to treat pain and reduce opioid cravings.
Prince, who would have turned 58 next month, was cremated. His family held a small, private memorial, but no public funeral has been announced.
Jason Sickles is a national reporter for Yahoo News. Follow him on Twitter (@jasonsickles).