Benjiszzy Zaákií drops new single Oluwa Lo Gami featuring Bskute (Guitar)
To wet the appetite of his music lovers, Gospel urban Fuji/Highlife music sensation Benjiszzy Zaakii debuts this year with a brand new song titled "Oluwa Lo Gami", ahead of the release of the video for the chart topping, soul lifting, and edifying song "Another Saturday"; which gained loads of popularity, and still enjoying massive airplay.
Benjiszzy is confident of his oneness and security in God as he unleashes as usual with his ever prosperous, heartfelt and soothing lyrics with an urban Fuji appeal, with melodious guitar accompaniments by Ghanaian based guitarist "Bskute", delivering a dynamic rhythmical message that is very appealing and edifying to the everyday listener.
Produced by the young ace producer Becky Jay.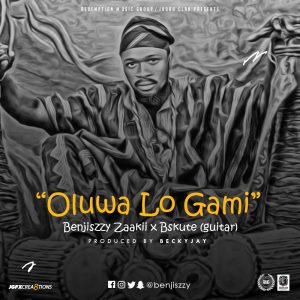 Connect With Benjiszzy
Twitter, Facebook, instagram : @Benjiszzy