New Music – Ayọ: The Joy Anthem by Mirus Alpha
Ayọ /ˈɑːjoʊ noun: common Yoruba given name, it can be given to both male and female.
Ayọ in Yoruba means Joy. Ayọ is also a common variation of the word yo.
Today, The Mirus Alpha brings you this beautiful piece that you may have joy and that your joy may be full.
Regardless of the challenges and storms of the past years, we can afford a smile, a chuckle, a laughter. We can afford to share a touch of love because this joy that we have, the world didn't give it and the world can't take it away.
Hit the download link and have this experience of pure unbridled Joy.
We present to you, Ayọ: The Joy Anthem by Mirus Alpha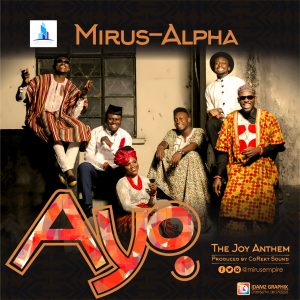 Connect With Mirus Empire/Bookings
Facebook/Instagram/Twitter: @mirusempire
E-mail: [email protected]
Phone: +2348184074872
Connect With Mirus Alpha
Sammy Hart
Facebook: Sammy Hart
Instagram/Twitter: @sammyhrt
Faithful Georgewill
Facebook: Faithful Vinn-Georgewill
Instagram/Twitter: @faygeorgewill
Sotiee
Facebook: Sotiee
Instagram/Twitter: @iamsotiee
Ruth Ohams
Facebook: Ruth Ohams
Instagram/Twitter: @ruthohams
Joe Jeph
Facebook: Joe Jeph
Instagram/Twitter: @joe_jeph
Prinx Emmanuel
Facebook: Prinx Emmanuel
Instagram: @thisisprinx
Twitter: @prinxofficial