Talented Rap Artist Suphrano Drops Single "Heaven On Earth"
Suphrano is a Talented young rap artist based in Port Harcourt , who loves God, People and music, he was the Winner of Nail da beat Competition hosted by Smart Don of Wazobiafm Ph which he did a single as the winner titled "Last card".
Heaven On Earth is a Hip-Hop song which is all about Living a Comfortable life as a human just as the word "Heaven" which means a place of bliss, no sorrow, no more struggles. At some point in our lives we have to just look at our lives and see how far we've gone and where we are heading to after life, and now we have the life. Heaven On Earth is a place and it takes a little more faith, little more work, little more Prayers, little more time we'll be there.
Enjoy....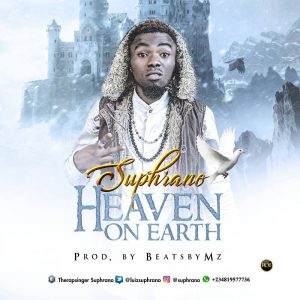 Heaven On Earth lyrics
Intro: Yeah two fingers in the air, Yeah you blooded like that.
Men E no easy sha, Na grace men (x2)
God's time, take your time
I guess Na only time go tell like the clock's snitching
Let's gerrit..
Verse:
Life's a Journey men I gats Survive, gat a mic, gat a voice and a master mind /
Gat the Juice, Putting work and some Sacrifice, tell me say I no go blow men I cast and bind /
That's my truth I just Summarized, if Life's a battle field then I'mma Samurai /
The devil Tryna shake me off like some pair of Dice, cause he knows my dreams reside in Paradise /
Want to win but ain't scared to loose cause that's where the Passion is to be well improved /
Never settle for less like I'm set to rule, Connected to the vine so I'm bearing Fruit /
Always evergreen with no Chlorophyll, my eyes up to the sky, I gat a better view /
I'm reaching up for success, I'm still up here I'm almost there ion need no Parachute /
What I do today is for tomorrow, Tryna clear my debts and stop to borrow /
Never want my joy to drawn in Sorrow, I'mma paddle for shore or where it's shallow /
Oh Lord I put my trust in you o, Na you dey always guide my moves o/
See the boy you save is good as new o, won't spend my time in chasing fools gold o /
Hook :
I believe in myself but don't know where I'm going gat nobody stopping me though /
Like Abraham, I no get other Options but to stick to God's promises o /
Chorus :
I no from this place o, like I'm on a quest hey /
I'm walking by faith o, to my Heaven On Earth o /
And I've been through the fire yes and I've been through the storm /
Survive death to make a living all by the grace, now I found hope /
But I no from this place o, like I'm on a quest o /
I'm walking by faith o, to my Heaven On Earth o/ Heaven On Earth.
Bridge :
Dream Chasers stay awake, the middle of night nai day dey brake /
Don't be afraid by the terror by night or the arrow wey dey always fly by day /
You far gone Just like yesterday, you gat today so don't hesitate /
In bad times you can kneel and pray then you can rise and look up to the better days /
Verse2:
Set a standard on the level you choose, and always know there's no one better than you /
The Competition makes you great, cause It helps to bring out the Incredible you /
Stop Putting all that bad attitude, work hard with your Valuable tools /
Set your eyes on the throne of grace, like you gat a lot of people counting on you /
Just for the moment, If I have a guess then I guess, I'm a guest like a Sojourner /
If Na wall I go break through, the defense's unable to stop my ball yeah, I'm a goal getter /
Been through Challenges made me tough to see through its Phases /
Living a life that's really full of adventure, with the Power in me men, I'm never feeling abandoned /
Yeah! Yeah! Yeah!!
I dey on my grind, life on Earth I no dey blend /
I gat my praises Going up, Blessings just dey fall on my head /
I can see the Heaven On Earth, Something like a Horizon /
And yes I put my hope in God, I'm seeking his kingdom first of all /
As all the things dey turn to plus, so Imma ride till the wheels fall off /
Fulfilling my purpose before the kingdom comes here / blooded!!
Back to Hook, Chorus and Bridge.
Outro :
I've found a New life in a Casket I'm dying to Live Forever
Men I pray you Prosper o, even as your soul Prospereth men
Suphrano ......... Blooded.
Beat fades with Effects of Voice.