The "TREE MAN" from Bangladesh
"I have fought for 10 years and endured the pain. Tomorrow, I have an operation due," Bajandra says.
"I want to be able to start working again."
He cannot perform any activities by himself -- cannot eat, drink, brush his teeth or take a shower.  He relies on his 21-year-old wife, Halima. Even their three-year-old daughter helps.
"This is pretty much the only thing I can do with my hand," Bajandra grins as he scratches his neck.
"I want to live like a normal person. I just want to be able to hold my daughter properly and hug her. It would be nice to eat with my own hands as well."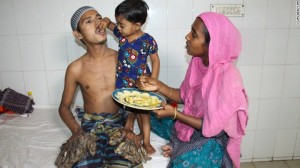 The 25-year old from southern Bangladesh first noticed unusual growths on his legs 10 years ago. He visited the local doctor who gave him medicine that he says didn't help. The growths continued. Three years later, he couldn't work as his fingers were completely covered with bark-like tentacles.
Journalists covering a local election spotted Abul in his hometown earlier this year, and the images of his condition quickly made national headlines.
That's when Dr. Samanta Lal Sen, President of the Society of Plastic Surgeons in Bangladesh, arranged to have him brought to the country's capital. The government then decided to bear the cost of his treatment.
"We have never done this sort of operation, so this is also something strange for us. May God bless us," says Dr. Sen, one of Bangladesh's foremost plastic surgeons.
When the operation starts, a team of nine doctors, led by Dr. Sen, starts removing the warts using a laser. They burn the dead tissue, layer by layer. Their main challenge is not to destroy any major nerves.
Not even in his wildest dreams did Abul Bajandra think he would live to see this day.
Lying on a hospital bed at Dhaka Medical College, Bangladesh's so-called "Tree Man" is just hours away from the first round of surgery that will hopefully change his life for the better.
After almost three hours, Dr. Sen emerges from the operating theater and gives two thumbs up to the family.
The operation was successful.
"We have taken out bulk from his right hand. Now it needs to be trimmed further after a few weeks. Then we have his left hand and the feet to operate, followed by skin grafting on all of them," the surgeon explains.
He adds that the whole process will take six months to a year.
The key question is whether the warts grow again? There's no cure for the disease, so doctors at the hospital can't give any guarantees.
"I feel content, I feel lighter," their weary patient smiles in the recovery room.
Dr. Sen walks in and explains to him what they did to his right hand, as well as what they plan to do during his next round of surgery in three weeks.
Bajandra doesn't seem to grasp all the details but at least he knows this: for the first time in 10 years at least one of his hands has a shape of a hand.
Source CNN