Letter to Nnamdi Kanu from Reuben Abati
Dear Nnamdi Kanu,
We have never met. I only know you by reputation and I have had cause in the last year to write on your activities within the public arena and offer my own views about you, your persona, and your interventions in the Nigerian debate. I sincerely hope you would get to read this letter wherever you may be, that is assuming you are still alive.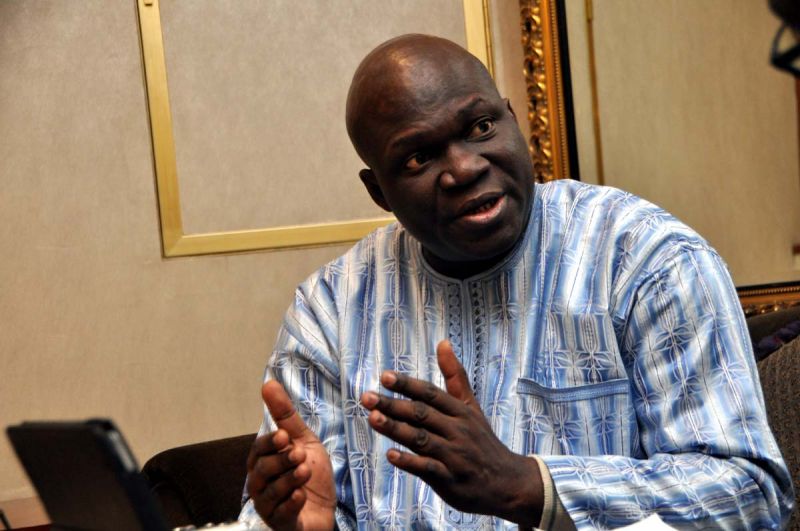 Your father's house was recently invaded by the Nigerian military (surprised you don't have a house of your own!). We were later told that you simply disappeared into thin air, along with your parents. The murderous Operation Python Dance II that was unleashed on Igboland by the Federal Government of Nigeria has since become a subject of national interest. Many people have proclaimed that you have been killed, abducted and that many members of your family and movement – the Indigenous People of Biafra (IPOB) have been wasted. Some people said you were called The Lion, but when trouble came, you were the first to run away from the zoo.
You had boasted that you will deal with any invading force from Abuja. You also said it would be "Biafra or Death". But when death came calling in the shape of Operation Python Dance II, your enemies insisted that you should have waited. Don't mind them, oh. I have defended you in another piece where I argued that it is probably better to run away so you can live to fight another day. Of course, it is not every revolutionary that runs away.
Che Guevara died in the struggle, and Martin Luther King, Patrice Lumumba, and so on. Nelson Mandela was jailed for life, but he lived to tell the story. In your case, the way the Nigerian state has been carrying on, it is clear they don't want you to tell any more stories. You have been charged for treason. You have now been labeled a terrorist. Your organization has been proscribed, and labeled an enemy of the Nigerian state. A week after soldiers stormed your state, neighborhood and home, the Nigerian Air Force began to drop its men from helicopters all over Igboland. They call it show of force.
I guess all of that is to let you and your men know that wherever you are, the Nigerian state is determined to hunt you down. If you are on land, they will grab you. If you hide in the skies, the Air Force will bring you down. And if you hide in the seas, the Nigerian Navy and the Amphibious Brigade of the Nigeria Army will fish you out.
Officially, we have been told that you and IPOB are worse than violent herdsmen and the Boko Haram who have killed thousands of Nigerians in the last year alone. The Boko Haram has been declared the fourth most violent group in the world, but the Nigerian government insists that you pose a greater threat. In fact, a government spokesperson sounded as if there is a secret plan in place to give herdsmen and the Boko Haram national honors.
There is probably something that the Nigerian government and state actors know that we do not know. You were dealing with the charge of treason, now there is the additional allegation of terrorism. Don't ever deceive yourself that if you get arrested again, you'd be released, except perhaps you change your identity and claim that you are now a herdsman or a member of the Boko Haram. There may be many people who have Nicodemus access to you who may be telling you to come and confront the Nigerian state. That is how Nigerians sweet-tongue people to their death. I am sure that by now, from your hiding place, you would have learnt some lessons.
The Nigerian state may be against you, but the people you really have to fear are the same people you claim to be leading, that is the same people who used to call you messiah and who followed you about, kneeling before you and kissing the ground on which you walked. Of what use is a change-agent without committed followers? Of what use is a revolution without the people's buy-in? Of what use is an ideology without foot-soldiers? The moment the Federal Government activated Operation Python II, most of the people who used to support you have gone completely silent. The Biafra Secret Service is nowhere to be seen. The Biafra National Guard threw away its uniform. Some of those boys who used to wave the Biafran flag and wear the Biafran cap have thrown them away too. One or two persons are still issuing statements on behalf of IPOB, but even those statements sound like they were issued from business centers. Your own kinsmen have called you a tyrant and an opportunist. Many of them have written social media pieces advising the Federal Government to deal with you, because you don't listen to advice. They even say you are not a true revolutionary but a gold-digger.
In all manner of ways, the Governors of the five Igbo states are using you to play politics. They have declared IPOB an illegal organization. They are openly abusing you. All the big men in Igbo land are as quiet as the dead sea. Igbo traditional rulers have refused to support your father who is their colleague. Some of them have in fact asked the Abia state Governor to withdraw his certificate and staff of office and appoint another person in his place. Even the big men who signed your bail documents have refused to defend you. You used to boast about international support for the Biafran cause. It has been said that the government now knows some "treasury looters" and international groups who are funding you and that IPOB accounts have been traced to some countries, particularly France. The French and the Turkish promptly distanced themselves from you. But the European Union and the United States spoke nicely. America says IPOB is not a terrorist organization and America will know.
But the Nigerian government that may not know half of what America knows is insisting that it is now a crime for anybody, even as young as five years old to identify with Biafra, regardless of the Constitutional right to the freedom of speech and association and the right to self-determination enshrined in the UN Charter. Indeed, it would appear as if the Nigerian Government has been able to break the spine of your movement, at least for now, and certainly, the way things are, the November 18 election in Anambra state will take place – with or without you. If anybody expected that there would be a massive protest in the South East over the treatment that has been meted out to you, that has not quite happened. All the markets in the South East are open; Igbo traders across Nigeria have moved on with their businesses. Life is so normal in the South East, the Nigerian military is dancing and beating its chest.
Northern and South Eastern Governors are holding meetings and congratulating each other. You turned 50 yesterday, apart from a few messages on social media, everywhere was quiet in the South-East. If this had been a month ago, the crowd that would have gathered at your doorstep would have stretched from Isiama Afara to Afikpo, and the cakes you would have received would have been uncountable. Rochas Okorocha recently got 27 birthday cakes, presented by 27 women, representing the same number of local governments in Imo State, you probably would have received a cake from every local government in the entire South East!
Since your disappearance there has also been little talk about self-determination or Biafra among Igbos. The sound of the narrative is gradually changing. There is more talk these days about Igbo marginalization, and the need to appoint Igbos into offices. One prominent Northerner from Kaduna has since gone to Chatham House in the UK to say Igbos should not complain about marginalization when they didn't vote for President Buhari in 2015, and that it is foolish for any Nigerian to expect to reap where he or she did not sow. Nnamdi, you'd be surprised that appointment-seeking Igbos will mobilize your people, including your followers, to vote massively for the same people who are currently hounding you, in 2019. You can be sure this will happen. In fact some people are already boasting that the only way to have peace in Nigeria is to make an Igbo man President or Vice President in 2019. While you were shouting "Biafra or death", some people were eyeing the business and political side of things. Every proposed revolution often runs into its own contradictions.
But don't worry. It may be fashionable now to criticize Nnamdi Kanu but the wisdom of the mob is not always the best guide. I sincerely hope that you are alive, and that you'd not end up as an Abogunrin. Not every man has the opportunity to witness what life would be like after his own funeral. Treachery is one of those unsavory ingredients of the change process. The deserters of the cause would claim they prefer to survive. The coffin maker prays fervently for business but he would never wish that his own family members should die. But take heart, hope is not lost. The fire that you have lit will continue to burn. Your struggle speaks directly to the subject of the national question. You have reminded all and sundry that Nigeria remains a troubled country and that there are many unresolved issues. Every effort has been made to kill your voice, and your movement, but the ideas that you have forced out of the cupboard will continue to resonate.
The good news also is that there are Nigerians in the diaspora who have taken up the struggle. They went to demonstrate at the 72nd United Nations General Assembly in New York and on the streets of London. Your friends, FFK and Ayo Fayose are still standing by you. There are many others out there who also do not agree that you are a terrorist, even if they do not agree with your methods and rhetoric. You have also exposed the hypocrisy of the Igbo elite. You have exposed the desperation of the ruling class. Don't let your head swell, though. If I must tell you the truth, you over-acted. Too much acting dey spoil cinema. You paid too much attention to ceremony. You were obsessed with your own heroism.
As you read this piece and reflect on your life at 50, let me remind you of the following statement which you made on August 27, 2017:
"Where we are is Biafra land. Aba is the spiritual capital of Biafra land. We started in Aba in 2015 at CKC. That day, heaven authenticated our move that IPOB will restore Biafra and that's what we have come to do. We died in Aba at National High School. They shot and killed us in other places in Biafra land where they were protesting for my release. As our people rest in the grave, we'll never rest until Biafra is restored. I don't care what they say in Abuja. I don't give a damn what they say in Lagos. I'm a Biafran and we are going to crumble the zoo. Some idiots who are not educated said that they'll arrest me, and I ask them to come, I'm in Biafra. If any of them leaves Biafra land alive, know that this is not IPOB. Tell them what I said. Tell Buhari that I am in Aba and any person who comes to arrest Nnamdi Kanu in Biafra land will die here. I'll never go on exile I assure you. Some people talk about restructuring, are we doing the restructuring of Nigeria now? Are we doing fiscal Federalism? Are we doing devolution? What we want is Biafra! Forget all the nonsense they write about us. We are not slowing down and no man born of a woman can stop us…"
Words on marble, Mazi Kanu, these are strong words on marble… Whatever happens, the fight of the python and the lion is a defining moment for Nigeria.
Reuben Abati