Exceptional Annie Idibia!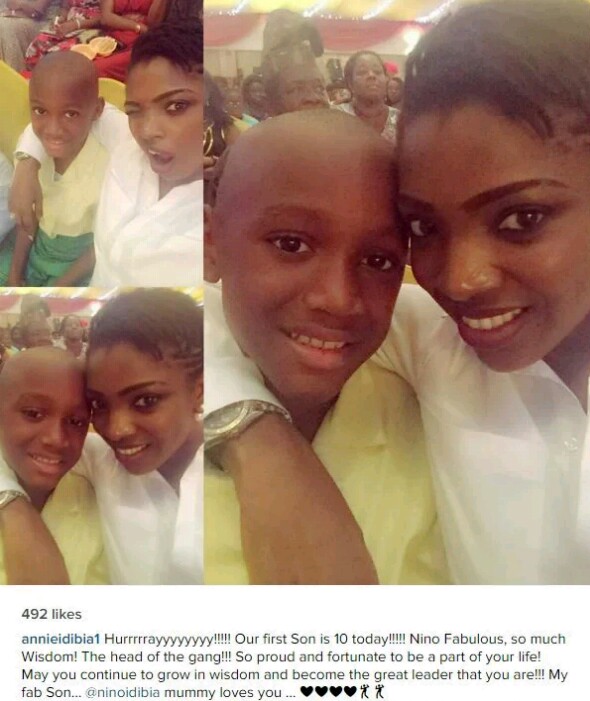 Today is Nino Idibia's birthday. Nino is 2Baba and Sunmbo Adeoye 's son. Annie Idibia took time out today to share pictures and wish him a Happy Birthday. I am not particular about the Birthday, i am more fascinated about the beauty Of Annie's heart. Annie has stopped at nothing to show love to all Of the kids 2Baba have fathered, and she Makes them public, regardless Of the fact that they have been love children as it were. This is not a trait easy to Find among Women. This reminds me Of Jada Pinkett Smith wife Of popular Holly Wood Actor  and film director Will Smith. She has the same heart Of gold and reflects all the Beauty Of that heart her children towards and the same measure to Will's first son Trey Smith who was a product Of the actors first marriage. He was married to Sheree Zampino.
Like we all do say, Life happens. They are many dynamics to the World. We cant exactly stop men and Women from having kids out Of wed luck, if we could, we really can't stop marriages from failing and just maybe will could, we may not have the power Of helping people fall out Of love and if finally we could, it turns out that we really have no power over life, so one could have a child and the wife dies, leaving the child to the possibility Of a new mother. I think if more Women could look beyond their insecurities and love a child for the love Of God and humanity we will be Saving the future and raising better men and Women.
Annie took to twitter today to celebrate Noni, she wrote
"Hurrrrrayyyyyyyy!!!!! Our first Son is 10 today!!!!! Nino Fabulous, so much Wisdom! The head of the gang!!! So proud and fortunate to be a part of your life! May you continue to grow in wisdom and become the great leader that you are!!! My fab Son… @ninoidibia mummy loves you"
I salute Annie Idibia