INTERVIEW with the "CELEBRATE" crooner- Sotiee (Interview By Chymes)
Q: Sotiee in the building! Good to have you here Bro! Your lyrics says you're the "local boy going overseas" (laughs) right? Please tell us about yourself?
Let's meet you.
A: Yeah, it feels great to be here, It's your boy Sotiee aka LBGO (Local Boy Going Overseas) and of course you all know I love you all. I'm the only child of my family and I graduated with a bachelor's degree in political science from the University of Port Harcourt. ‪
Q: Where are you from? Can you also greet us in your dialect?
A: Haha..  Sure! I greet YOU all by saying Igbama oh! That's how a Bonny man would say good morning. Jumbo Sotonye Emmanuel is a full blooded Bonny Boy.
Q: Indeed! You're truly the son of the soil (laughs).. let's talk about your music and how it all began?
A: Professionally,  I started three years ago but before then I was known as JUDAHjes. We later changed the brand name to Sotiee for some reasons. I got signed into the Mirus Empire label and now we've got some new hot stuff cooking.  We're getting bigger and stronger by the day. So music for me has been quite eventful.
Q: So, has it always been gospel music for you right from the start?
A: Yes, it has been gospel music all the way
Q: Your single "CELEBRATE" was premiered recently, tell us about the single...
A: Uhmmm! #CELEBRATE is a blessing that came to me through the horrific display of the socio-economic instability, political menace, killings and all shades of the brokenness in Nigeria. The song is an encouragement to my fellow Nigerians. Celebrate gives us a reason to focus on the good things we have! Things like love, family, life, friends, health etc. We cannot keep destroying our minds with the show of anger and frustration. So we believe this sound is affecting and positively infecting Nigerians to CELEBRATE! Every day we receive loads of awe-inspiring messages and we give God the glory.
Q: Sotiee, this brings us to your Genre... Not many gospel artistes do dancehall, how come you're different?
A: Music is a tool for varied expressions. The tempo could be fast or slow which is really not a problem. What we must fight against is any music that promotes profanity, vulgarism and gangsterism. We are all uniquely different and that should be seen in whatever we do. So I fight the vices not the category and this is why I'm different.
Q: You're quite cute... Are you married? (winks)
A: Hahaha (singing) "I am married to Jesus, Satan leave me alone" hahaha... Well, not at the moment but soon enough.
Q: What's your hobby? what do you do when you're not doing music?
A: I love to watch football. I also look forward to putting smiles on the faces of people.
Q: What is that item you wear the most in your closet and why?
A: My glasses, I think it's sentimental... Sometimes I just like a thing for no reason at all... It happens to you?
Q: Yea, quite relatable.... So tell us about your team... MIRUS EMPIRE
A: Mirus Empire is a great brand, very focused, very intellectual, great family! Ruth Ohams, Joe Jeph, Faithful Vinn-Georgewill, Sammy Hart, Prinx Emmanuel aka Corekt Sound. These are my brothers and they are all soooooooo blessed. The bosses are Mr Isaiah Olumati, Mr Dan-Patrick and Mr Jay Momnang... Great great team! You should watch out for us because we are making a difference already.
Q: That's cool! Now, tell us the quotes you live by?
A: Man wey no plan well go say na witch they worry am. Another is 'Man wey work nai go chop' finally 'Words killeth,Words maketh alive'
Q: Hahaha haha.... Wow, that's great. So what are the words you want to leave with your fans out there?
A: To my all fans out there, you are the best... Please live peacefully and don't do drugs.
God bless you.
Alright! Is a great pleasure to have you around for this brief interview. We look forward to your next project while we keep Celebrating! Thank you.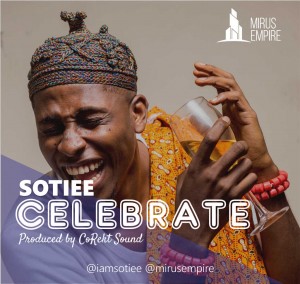 DOWNLOAD CELEBRATE by Sotiee by clicking the Link below
Download Celebrate