UniAbuja Students Protest death of colleague
Students of the University of Abuja (UniAbuja) have blocked a major highway in protest of the death of their colleague. The front of the university where the students are protesting is a few kilometres to the Nnamdi Azikiwe International Airport.
It is an access road for travellers going to the southern part of the country from the Abuja metropolis.
Simi Love, a 200 level student of history department, was reportedly knocked down on Sunday by a vehicle while fleeing from suspected armed bandits.
The incident occurred in front of the gate of the main campus.
"They have been robbing students in front of the school for some time now. She was knocked down by a car while trying to escape armed robbers" a student who simply identified herself as Pamilerin told TheCable.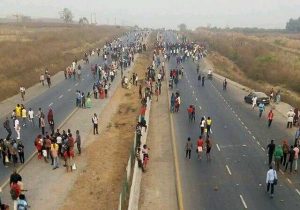 "The person that knocked her down brought the girl into school immediately for treatment but she did not survive it because there are no facilities in the school clinic."
Late last night, Okoye Abdulazeez, the student union government (SUG) president, in a statement said the chief security officer of the school "must go" since he could no longer protect the students.
"Our university clinic must be adequately staffed and equipped," the statement by Abdulazeez read.
"We thereby jingle the solidarity bell to all the students. Come 6:00am today (Monday), we are converging at the front of main campus of University of Abuja. And our prayers to the vice-chancellor must be honoured."
Source: The Cable