#OyaConnet With Port Harcourt's Creative Industry Key-Players on 29th July 2016!
This is to inform the general public of an interactive session being put up by a team of experts and well-grounded entrepreneurs labeled "#OyaConnet".
#OyaConnet was launched to help build community and share information about how to combat the challenges of today's artistic environment.
The goal is to engage in a personal conversation, direct way, about practices, resources, and workflows that have helped them produce quality work and general learning about a variety of business related topics between the creative industry and the consumers.
Aimed at providing vital information, solutions, inspiration, motivation, connections, and tips to creating a stable bridge between the industry and its consumers.
Who is invited?
You are! Because the creative economy comprises PR/advertising, architecture, art, crafts, design, fashion, film, music, photography, performing arts, publishing, R&D, software, toys and games, TV and radio, and video games.
Which category do you belong to?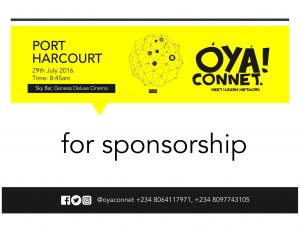 Powerful PR: Narrative influence on social engineering.
Every brand has a story to tell and a story to sell.
Understanding how major profit organizations use narrative strategies to influence social change by humanizing complex policy issues is an art and science that cooperate bodies need to emulate in order to bolster trust and consumer confidence. We'll explore these concepts through the lenses of the key players in the industry.
Light refreshments will also be available at this session.
We are expecting a total of about 100 – 150 key players from the creative industry in this region at the event.
As prominent figures in the society, we would be honored by your attendance.
Our special presentation will be held at Sky Bar, Genesis Deluxe Cinema, Port Harcourt on July 29th 2016.
We look forward to seeing you there.