Air France plane forced to land in Canada with engine damage
An Air France flight to Los Angeles from Paris was forced to land in the Canadian province of Newfoundland and Labrador following "serious damage" to one of the plane's four engines on Saturday.
The airline said the plane landed safely in the afternoon after being diverted to Goose Bay airport as a precaution. Passengers on board the aircraft tweeted photos and video of the plane flying through the clouds with a damaged engine.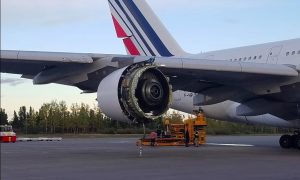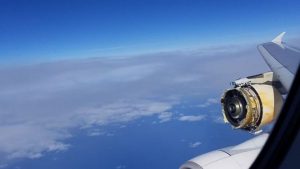 "We heard this tremendous bang. It was like the plane hit a Jeep at 35,000 feet," passenger Pamela Adams said in a telephone interview. "We grabbed onto something and then we sat down, and the plane righted itself fairly soon".
Passengers nervously joked to one another as they tried to make sense of the commotion, Adams said. She figured the plane had struck a bird, but then, it became clear that the situation was more dramatic. The pilot came on over the loudspeaker and said the plane had lost one of its engines and would be landing in Canada, Adams said.
The plane landed 90 minutes later. The crew handed out meals as they waited on the runway for hours. Air France said it brought in two flights to carry the 497 passengers from Goose Bay to Los Angeles.